Vector Cheese in Adobe Illustrator
Today's tutorial is neither about any effect nor typography. It's all about vector artwork.
In today's tutorial, you will learn to draw Vector Cheese ? in Adobe Illustrator.
Let's begin with the tutorial. First of all, launch Adobe Illustrator and create a new document. Now follow the below steps-
Step 1
Select the Ellipse Tool from the Tool Panel and draw a circle of size 270 X 270 pt.
Now select the circle with the help of the Selection Tool. Right-click on the Pen Tool and select the Add Anchor Point Tool.
Now add two new anchor points on the left side of the circle.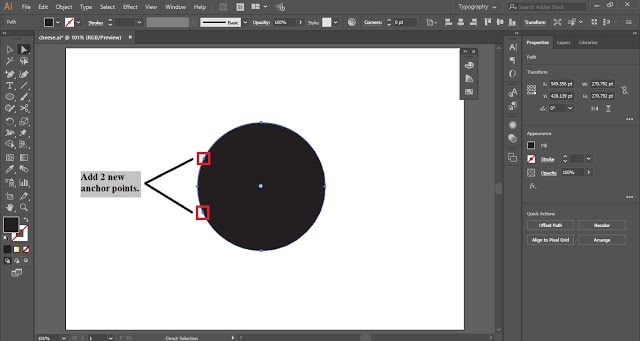 Select the Scissor Tool and click on both the new anchor points and then delete that path. Now select the Pen Tool and draw the paths as shown in the below image.
Step 2
Select the shape created and go to the Menu Bar. In the Menu Bar, click on Effect and place the cursor on 3D, and select Extrude & Bevel.
In
3D Extrude & Bevel Option
dialogue box, put a checkmark on
Preview
and set the
X-axis
to 50
o
,
Y-axis
to -18
o,
and
Z-axis
to -7
o
. Click
OK
.
Now select the shape and click on Object in the Menu Bar. Click on Expand Appearance and then Ungroup all the shapes 2 times.
After ungrouping, delete all the extra and unwanted paths. After that, make the compound path of the required shapes.
When you will delete unwanted paths and make compound paths you will be left with only 3 required shapes. The top side of the Vector Cheese and the two shapes of the base.
Step 3
In this step, we will fill color in the Vector Cheese.
Fill the top of the Vector Cheese with the color code # ffe248 and the base with # eeb124.
With the shape and color, the artwork is taking the shape of Vector Cheese but it is missing the holes present in the actual cheese. So now draw the rough circles of varied sizes and fill them with both the colors used above and place them all over the Vector Cheese.
So this is how you can make Vector Cheese in Adobe Illustrator.
Share this tutorial with others and write your views in the comment section.